About Me
When was the last time you felt so desirable, sexy and virile after seeing a woman that you actually felt compelled to tell her: "Thank you for making me feel like a man again!"?
There is almost nothing more exhilarating to me than knowing a man feels that way after spending time with me. I want to melt away the stresses of everyday life with you and seduce you with my elegance, charm, not to mention my "assets" and desire to give you everything you need to get lost in sensuality, pleasure, and even fantasy, starting with the mind in how we correspond all the way to the moment we first touch to our kiss goodbye.
~~~~~~~~~~~~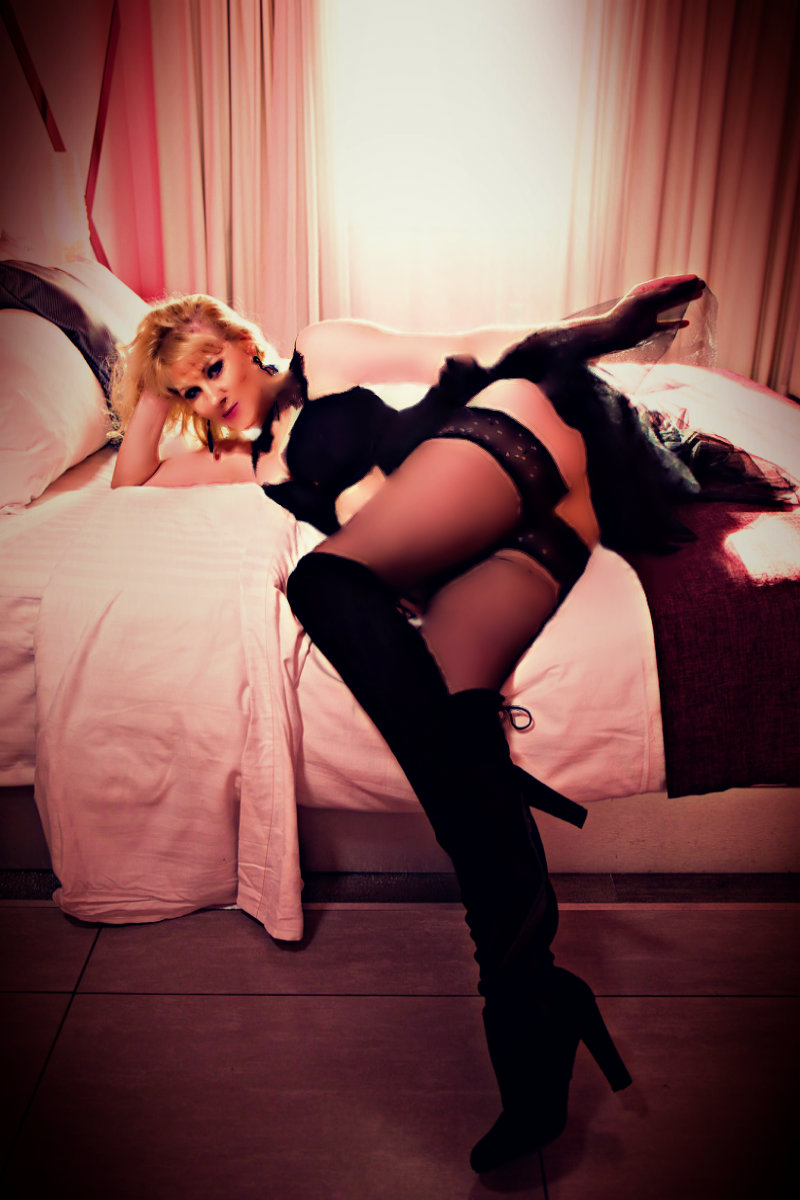 ~~~~~~~~~~~~
Over time I have learned that what I offer as a one-on-one, discreet and elite companion captivates and tantalizes most the type of man who is seeking an authentic woman, both inside and out, whose desire to spend time with you supersedes any superficial aspects of companionship. He is distinguished, intelligent, willing to be open in conversation. But most importantly, he has a desire to dedicate quality time with me allowing me to focus all of my energy on him, from the moment I begin getting ready for him all the way through our very last minute together, which is just one reason I only select one gentleman per day on the days I am available.
I am a mature, statuesque, radiant beauty who embodies femininity in all its glories starting with real DD's, fair, soft skin, long, lean (and FLEXIBLE!) dancer legs that are even longer in heals, a swan like neck, and other truly "sweet and delectable" reasons waiting for you to message me immediately! But it is my smile and sweet personality that will immediately put you at ease the moment we meet. I am also an open-minded, intelligent, well-mannered and multi-faceted woman who feels that what I can provide in drama-free, respectable companionship is of great value, and respecting that you have your reasons for choosing this kind of arrangement, I still never want you to feel like a "client." I want you to be left feeling nothing less than euphoric.
And because I cater to the truly respectable gentleman, your, rather OUR confidentiality and discretion are always of utmost priority from the moment we begin corresponding. Even after a few drinks, I remain a perfect lady and will not embarrass you. I do not like negative attention and always remain coherent. I am well spoken and college educated so I know how to hold an intelligent and stimulating conversation and stay well-mannered. I'm also outgoing with a fun (and only sometimes a little devilish ;)) sense of humor. I'm also sweet, sensual, erotic and naturally intuitive to your needs. I naturally discern when to be alluring and flirtatious or when to just let loose a bit to help you enjoy the perfect evening, making everything feel natural and certainly never rushed, whether we are out on the town or in the privacy of your hotel room or home.
You can take me anywhere and I love it when I turn heads while in your company, but only because I look stunning and sexy and you are the envy of those who do turn their heads. I may look like the girl next door but you can trust that I'm all grown up with the experience and maturity to match. I look forward to getting dressed up for a date but my look is natural, not plastic, and no enhancements. Glamorous and always elegant, I dress appropriately for whatever occasion we choose, whether it be an exquisite cocktail/evening dress, a sexy club outfit that leaves just enough to the imagination, or perhaps something for your eyes only. ;)
But regardless of what I am wearing, ultimately when our time comes to an end, the only evidence I intend to leave you with are hopefully just some amazing memories. So if you are an intelligent, respectable guy who desperately needs to feels like king of his erotic world again, even if just for an evening, then I am here... waiting for you to let me!
The Scandenavian, milky skinned caucasian
No. I am specially made for th
Good hygiene, Mature, respectful gentlemen, Punctual, Generous clients, Fine dining, Common courtesy and Good manners
CHEAP AND/OR ENTITLED, DISRESPECTFUL CLIENTS! Bargaining my already low rates, Unrealistic expectations and bad hygiene, especially bad breath and poorly groomed in ALL areas.
respectable gentlemen, possibly small group
8/10 I look amazing in formal wear
High dancer arches, size 7 to 8.
graceful and poised as a ballet dancer should be